Property Evaluation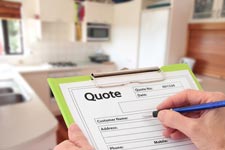 Great properties find great tenants at great (higher) rental rates and better maintain their value over time. Problem properties find problem tenants. To ensure the best possible outcome and the greatest chance of financial return on investment rental properties must be properly maintained.
Captex Property Management will assess your home to pinpoint areas where deferred maintenance needs some attention to protect your property investment. Many properties need minor code work before they can be rentals. This usually amounts to an extra lock on the front and back door, a few extra smoke detectors than the average older home contains, and maybe a handrail on those steep back steps.
We evaluate property at the onset of management services to establish a condition report, then do an official annual report before lease renewal. Practically, we are in the home several times in between these reports for maintenance and drive-by inspections. We have eyes on your property throughout the lease term.
We offer an optional third-party inspection service through Onsight Pro's. For a minimal cost one of Onsight Pro's Property Condition Inspectors will go in and provide an extensive report documenting the condition of the property and recommending action if any deficiencies are found.
Check out their website and sample reports here:
"We will give you pictures and comments about the property and it's current condition to include Property Code Violations, Insurance Company Risks, Maintenance Issues (Including A/C Filter), Hazardous Issues, HOA Violations, Unauthorized Pets, or Illegal Activity. Property Managers love OnSight PROS because of our attention to detail and our quality of service. Our team is focused on delivering the great results you need to protect your investment property."