Marketing and Tenant Screening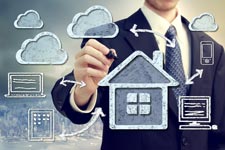 Austin's vibrant real estate market provides ample opportunities to showcase your property. We will list it well; list it everywhere; and lease it fast.
Captex Process to Rent Your Home
1. Lease Showing Systems
Our team uses cutting edge internet lead tracking software along with Codeboxes to automatically follow up with every lead that expresses interest in your home. Every contact is a potential, great tenant, so we make sure we never miss an opportunity for your next resident.
2. Photos
Our marketing team will ensure we have quality photos of your home taken with our wide angle lens cameras. These are top quality pictures that are internet ready.
3. Video
We take the extra time to film a video of your home to assist with marketing. This is posted to YouTube and published with the pictures of your home. Tenant feedback leads us to believe that more people watch the video after only looking at one or two pictures.
4. Websites
Your home will be listed on the Austin MLS, Zillow, Trulia, and other Syndication websites and placed on our website.
5. For Rent Signs
Your home will have a branded sign placed in the yard with all the information needed for applicants to reach us to see and apply for the home.
6. Owner Updates
Owners will receive regular updates every 14 days that their home is on the market with all the latest information. In this feedback, owners will see all of the internet activity and the MLS activity from the 3000 agents in Austin.
Inquire About Our Services
Market Insight
Our team can recommend best practices to you for pricing your home, getting your home ready for renters and other advice to make your home the most attractive to potential residents. Market research is critical to finding the right price for your property. Simply setting the highest possible price will likely lead to an unleased property. We work with industry leaders and the best resources to ensure that the price we suggest is the price that will get you the best residents as quickly as possible for as long as possible.
Screening and Rent Collection
Our unique Captex Guarantee include thorough resident vetting and a commitment to honored leases. We know our residents, and we stand behind our tenant placement with a Captex Resident Screening Guarantee.
Finding the Best Residents
The most important component of maintaining your property is properly screening the people who will be living in it every day. Our goal is to find the best residents who will treat your property like it is their own, so we take our screening process seriously. Each potential resident is thoroughly vetted, from a lease and eviction history to a credit report and a criminal background check.
We know our residents, and we verify their employment and income and guide them through an orientation process before they move a single box into your property. If you are open to residents with pets, we get to know them too, keeping a recent veterinary records on file.
When we are satisfied that the resident is able and willing to meet our expectations, we use the most current rental lease agreement and lease documents from the Texas Association of Realtors, along with our own proprietary addenda.